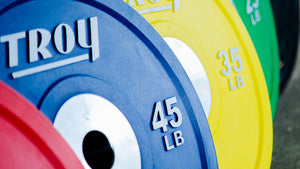 Frequently Asked Questions
You can find a dealer by:
- Sending us a message with your city/state/zip to the chat bot on our website
- Visit the Contact Us page
- Reaching out to your assigned account representative.
You can become a dealer by using the Contact Page to be contacted by one of our dealer partner coordinators.
Our experienced product development team designs all of Troy Barbell & Fitness products in-house. Our US suppliers manufacture a few of our products, such as the AOB-1500 barbell. Some of our products are imported from Asia, including China. However, we use the same quality standards across all of our factories to ensure every product
meets the standards of the TROY name.
We do not currently offer any financing.
Our warranty varies by product line and product category. For more information please visit our Warranty page.
Please visit the product page on troyfitness.com and search through the SKU number.
If there is not a manual available, please email marketing@troybarbell.com with your specified product.
Yes, we are on EC Design. There may be some newer products that are not yet available - please be patient with us as we work on getting these uploaded. For any direct requests please email marketing@troybarbell.com.
We do not have a set schedule to restock items—we refill our inventory as soon as stock is available. Please check with your account representative frequently for updates.
We have trusted and reputable partners in Texas and California who provide us with US manufacturing.
Whether manufactured domestically or overseas, all of our products are held to one single standard - the TROY standard. That means we take extra care to ensure that it meets the highest quality and consistency.
If you are a dealer, please reach out to your account representative. For all other inquiries, please use the Contact Us page.
We partner with trusted transportation and logistics partners and also ship orders through major US carriers.
Yes, we Do ship Troy to dealers outside of the continental U.S.
For more information, please discuss with your account representative or email us at sales@troybarbell.com.
Due to the high-amount of inbound and outbound traffic from our warehouse, please refrain from attempting to pick up your order in-person unless there has been a prior agreement.
Shipping times vary by the warehouse location of the products order, shipping method, as well as the destination address.
For an accurate view of your shipping status or to find tracking number, please visit the Dealer Portal.
Due to COVID-19, at the moment our laser engraved logo lead time is slightly longer than usual. Please contact your account representative for an accurate timeline.
Please provide your logo in AI, EPS, or PDF format with specified Pantone colors.
Each custom logo product is visually inspected upon arrival to ensure quality standards and consistency.
Dealer
Please contact your account representative to discuss our Return & Exchange policy.
Purchased from dealer
If you purchased from one of our trusted dealers, please reach out to them as their return/exchange policies may vary.
In order to cancel or modify your order, please reach out to your account representative.
It would be our pleasure to help you with any questions or support for one of our products. Please reach out to your account representative or contact us via email at info@troybarbell.com or by phone at 1-800-872-7767.